Homemade is our middle name!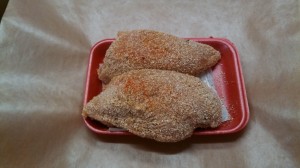 We make so many different types of homemade products, that we need to break them down into categories for you to appreciate the depth and quality of Mulholland's!
Tasty Heat and Eat Items; We produce during cooler weather, many popular items which can be taken home for a quick meal, or to work for a fast and easy microwaveable meal. Our Beef and Noodles, Chicken and Noodles, or Slow Roasted Ham and Beans are all extremely popular, and one of the reasons is the time that we take to do it right, and also the meat that we put in these items. We don't just wave a little bit over the pot like my grandmother would have done, we pile it in!
Stuffed Chicken Breasts: Another very popular item or set of items for us would be our Breast of Chicken Cordon Bleu (shown here), our Spinach and Feta Stuffed Chicken Breasts, or our Hawaiian Chicken Breast, which we stuff with our own Homemade Canadian Style Bacon, and pineapple, Mmmmm! These products are all very simple; just bake, serve, and enjoy the compliments that will be given to you!
We have other items to make your life easier, also. Pre-cooked items such as Heat and Eat, Seasoned Taco Meat, or Sloppy Joe Fixin's! Pop in the microwave and enjoy. Our Slow Roasted Baked Beans have been a favorite of many since we opened our doors. If you wanted canned beans, you'd buy them. If you want flavor that you'll remember, you'll buy these!
Fall and Holiday Specials!
Time has gone by, and we're working on making 2016 the BEST YEAR that Mulholland's has ever seen, and after WELL OVER a century, that means a lot! Special events that are coming to Malvern will be bringing THOUSANDS of new people to our community and store, and we're planning to make the most of […]
Community Events
The community of Malvern has been blessed and recognized often lately by publicity from the area news agencies. Stories on TV, radio, and numerous newspaper articles have highlighted many of the things that our community has going on, and has to be proud about. Visitors and customers from a wide radius have come to Malvern […]