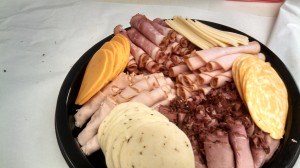 Mulholland's catering continues to grow year after year as more people try and enjoy the products and food that we prepare. We specialize in smoked meats and barbecue, but there are many other items that we make, and make well. Our Pulled Pork and Barbecued Beef are the staple at graduations all over the area, and our Slow Roasted Baked Beans are some of the best that you'll ever try. We've done receptions with a full Pasta Bar, parties with Smoked, Seasoned Chicken Pieces, and meetings with sandwich platters, salads, and basically whatever else you might think of. We've prepared food for more than 500 people to family reunions with a dozen or so. Talk to us and we'll work out something you're thrilled with, including the price; we always tell our customers that catering doesn't have to cost and arm and a leg! We've booked numerous class reunions recently, and one of the things that we think is most telling is the number of repeat events we're doing, some for the third year! Putting out quality food at a reasonable price is what we're all about!
Baby Showers
Birthday Parties
Bridal Showers
Business Meetings
Class Reunions
Family Reunions
Funeral Dinner
Graduations
Wedding Receptions
Wedding Rehearsal Dinners
There are many more times you may need some help; call and let us know how we can assist you!